NEW RELEASE!
---
Hawaii Kids Calabash
(sequel to Keiki Calabash)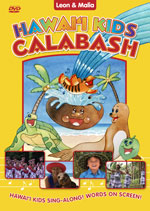 Musical fun with Leon & Malia, hundreds of island kids, hula dancers, playful puppets, all set in the great Hawaiian outdoors.
HawaiiKids.net The Online Home of

Keiki Calabash and Leon & Malia
Learn about Hawaii's unique environment, animals and people with Leon & Malia, Hawaii's favorite songwriters, singers and television celebrities! Check out our educational resources for lesson kits about Hawaii for children ages 3-12. Visit our events calendar to find out where Leon & Malia's next performances will be. Remember to visit our online store for Keiki Calabash products and more great merchandise from Leon & Malia.
Welcome Kids!
We're glad you found us! We made this website for you to have fun exploring and learning about Hawai'i. So jump right in and learn about the birds, plants, animals and people of Hawai'i!
Welcome Parents and Educators!
Leon & Malia have been providing quality educational entertainment ("edutainment") for Hawaii's children through live concerts, children's programing and lesson kits for kids ages 3-12. Catchy songs about Hawaii's creatures, environment, and people coupled with a complete set of lyrics and background information about each song brings Hawaii into your classroom! Visit the Educators' Corner to learn more about Hawaii-related lesson kits and more educational resources from Leon & Malia. Visit our Parents' Corner for family and child friendly activites on Oahu.